Attention A T users. To access the menus on this page please perform the following steps. 1. Please switch auto forms mode to off. 2. Hit enter to expand a main menu option (Health, Benefits, etc). 3. To enter and activate the submenu links, hit the down arrow. You will now be able to tab or arrow up or down through the submenu options to access/activate the submenu links.

Parkinson's Disease Research, Education and Clinical Centers
Southeast (Richmond)
Parkinson's Disease and Movement Disorders
RESEARCH, EDUCATION, and CLINICAL CENTER
Richmond VA Medical Center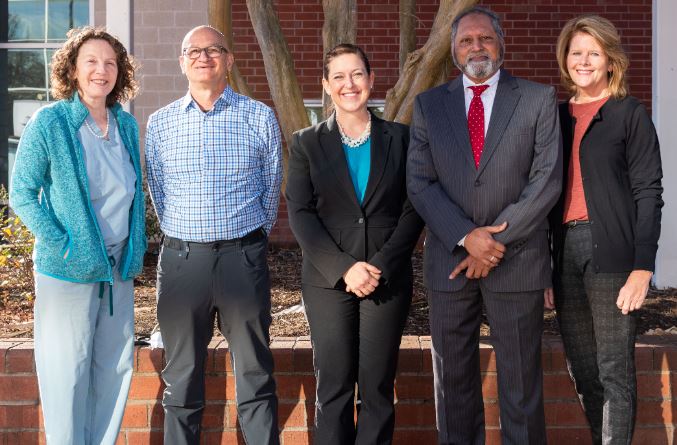 In 2001, the Veterans Health Administration (VHA) created six Parkinson's Disease Research, Education and Clinical Centers (PADRECC) to improve care for veterans with Parkinson's disease and other movement disorders. These specialty centers are located in Philadelphia, Richmond, Houston, Portland, San Francisco, and West Los Angeles.
Richmond VA Medical Center, Richmond, VA is home to the Southeast PADRECC serving the southeastern region of the United States (Virginia, West Virginia, Maryland, DC, North Carolina, South Carolina, Tennessee, Kentucky, Georgia, Alabama, Florida, and Puerto Rico) along with nine Consortium Centers that are part of a Veterans Affairs network of care for veterans with movement disorders.
PADRECC Southeast/Richmond Contact:
Central Virginia VAMC 652/127
1201 Broad Rock Blvd.
Richmond, VA 23249
Location: Room 2C-110
Phone: 804-675-5931 or toll free 800-784-8381 ext 5931
Fax: 804-675-5939


Directions to PADRECC Clinic: Room 2C-110 is on the second floor of the main building of Central Virginia VAMC. Take the South Elevators from the Main Lobby to the 2nd floor. Look for Neurology department and signs for PADRECC, hallway 2C.



Joint Philadelphia & Richmond VA PADRECC Support/Education Group




Meetings:

1st Monday of the Month
1:00pm-2:00pm EST
Location: Virtual via Webex
Contact: Gretchen Glenn (215) 823-5934 (Philadelphia VA) or Jessica Kaplan 804-675-5931 ( Richmond VA)
Email: gretchen.glenn@va.gov or Jessica Kaplan2@va.gov for link information

Early Onset Support Group

Meetings: 2nd Wednesday of the Month
5:30p - 6:30 pm
Contact: Jessica Kaplan2@va.gov


Richmond area PD Specific Community Exercise Download List

Virginia (but not Richmond) PD Specific Community Exercise Download List


PADRECC Southeast Staff
Jessica Lehosit, DO
Director, PADRECC Southeast
Mark Baron, MD
Director of Research

Kathryn Holloway, MD
Neurosurgical Director

Abu Qutubuddin,MD
Associate Director of Rehabilitation
Debbie Lindsey, MS,APRN,ACNP-BC
Nurse Practitioner
Miriam Hirsch, MS, RN
Neurosurgical Nurse Coordinator


Paul Koch, MD
Neurosurgeon
Jessica Kaplan, BSN,RN
Clinic Nurse Coordinator
Lesa Beatty, LPN
PADRECC Clinic Nurse
Emily Hall, LCSW
PADRECC Social Work
Christina Kausek
Program Support Assistant
Cari Kowalsky
Advanced Medical Support Assistant


Fatima Smith
Advanced Medical Support Assistant
Rachel Sinclair
Research
PADRECC Southeast Affiliate Interdisciplinary Staff

Michael Shapiro, PhD
Kyle Haggerty, PhD
Neuropsychology
Lauren Sharpe-Payne
Brittany Reed, M.Ed., CCC-SLP, CBIS

Speech Therapy

Cameron Jennings, FNP-BC, ACHPN
Palliative Care


Karissa Serio, PT, DPT
Farah-Dale Morris,

PT, DPT, NCS


Physical Therapy


Erin Buckley, OTR/L
Occupational Therapy


Elsa Mathew, MD, ABPN
Leslee Hudgins, DO,

ABPN


PADRECC Sleep Medicine
Melissa Oliver, MS OTR/L
Assistive Technology
Hope Kumme,

MM, MT-BC, NMT


Music Therapy
Cynthia Greenacre
VISOR
Michael Peterson


NVI Optometrist





Southeast Consortium Centers
Download information sheet
Locations of National VA PD Consortium Centers in the Southeast Region include:
Augusta, GA; Birmingham, AL; Decatur (Atlanta), GA; Durham, NC; Gainesville, FL; Lexington, KY; Nashville, TN; Orlando, FL; Tampa, FL


Press
Nov 13, 2017: Virginia Currents (#2702): Coping with Parkinson's Disease This 27 minute PBS segment shares the stories of 2 former VMI cadets who are now both facing the same enemy, Parkinson's. Meet Dr. Charles Bryan and Carl Rhodes and find out about their endurance and will to stay active despite having Parkinson's and what different approaches have helped them cope with Parkinson's symptoms. Also features VCU PMDC's Dr. Jon Snider explaining signs of Parkinson's.

October 19, 2017: Screening for Parkinson's - What do a Dog and Keyboard Have in Common? Listen to an archive of the panel discussion. Dr. Mark Baron, PADRECC neurologist, movement disorder specialist, and researcher was a webinar panelist for a Michael J Fox Foundation (MJFF) Third Thursday's Webinar. The discussion featured non-invasive screening methods to identify Parkinson's disease earlier before motor symptoms become visible, including Dr. Baron's MJFF-funded study about eye movements and their relationship to PD.

Sept 2017: McGuire Helps Diagnose Parkinson's Years Sooner than Traditional Methods" article in Voices of VISN 6, July-August 2017, Vol 7, No 9, features George Gitchel, PhD, Director of Clinical Research for PADRECC Richmond/Southeast.

July 2017: VCU and McGuire VA hospital are powerful partners for veterans - and the rest of us. The article first appeared in the Richmond Times-Dispatch July 9, 2017. Charles F. Bryan Jr., is a veteran and community leader. He is president emeritus of Virginia Historical Society and writes as a guest commentator for the Richmond Times-Dispatch. Dr. Bryan utilizes health care services from Southeast/Richmond PADRECC at McGuire VAMC in Richmond, Virginia. VCU stands for Virginia Commonwealth University and the Medical College of Virginia (MCV) is part of VCU.
June 2017: Restoring Movement for Our Heroes and Our Community. This article about Deep Brain Stimulation (DBS) highlights the partnership between McGuire Veterans Affairs Medical Center and Virginia Commonwealth University/Medical College of Virginia (VCU/MCV) in Richmond, VA. It features Dr. Kathryn Holloway, Neurosurgeon and Veteran, Charles F. Bryan Jr. who spoke together at a MCV Foundation meeting about the benefits of VA/VCU collaboration.

Sept 17, 2016: VCU researchers receive MJFox grant to study Parkinson's disease/Team will study eye-tracking device for diagnosing PD (Dr. Mark Baron and Dr. George Gitchel) in Richmond Times Dispatch.

Aug 25, 2016: This week's VA Top Doctor (Dr. Kathryn Holloway): 500 Brain Surgeries in VA's blog-VAntage Point:
Aug 21, 2016: Read Charles F. Bryan Jr. editorial "Taming the demon Parkinson's" in the Richmond Times Dispatch.
July 26, 2016: Listen to National Public Radio (NPR) 20 minute interview of Neurosurgeon Dr. Kathryn Holloway by Charles Fishburne on NPR Science Matters "VCU Surgeon Ranked Among Nation's Most Active in Deep Brain Stimulation" . Learn about Deep Brain Stimulation (DBS) surgery and Dr. Holloway's accomplishments and contributions at Virginia Commonwealth University and McGuire VAMC PADRECC.
July 17, 2016: Charles F. Bryan Jr. editorial "Loosening a demon's grip" about his Parkinson's disease journey, McGuire VAMC PADRECC and DBS surgery in the Richmond Times Dispatch.
return to top